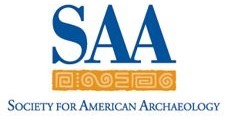 Digital Antiquity has partnered with the SAA to preserve the annual meeting abstracts and make the presentations and data used to support them available in tDAR. As a presenter, you can access your abstract's record in tDAR, edit the metadata, and upload a PDF copy of your paper, presentation, or poster. You can also add a supplementary data file (up to 3 files/30MB) FOR FREE!
To UPLOAD your Society for American Archaeology annual meeting presentation or paper into tDAR:
Start by typing the first few words of the title (or your name) in the box above and your presentation title should appear.
If multiple titles appear, click on the one that is yours.
Once you see your title in the box, click the GO button.
You will get a screen asking you to either REGISTER (i.e., create an account in tDAR) (left side below) or to log in to tDAR (right side below). IT'S FREE to create an account: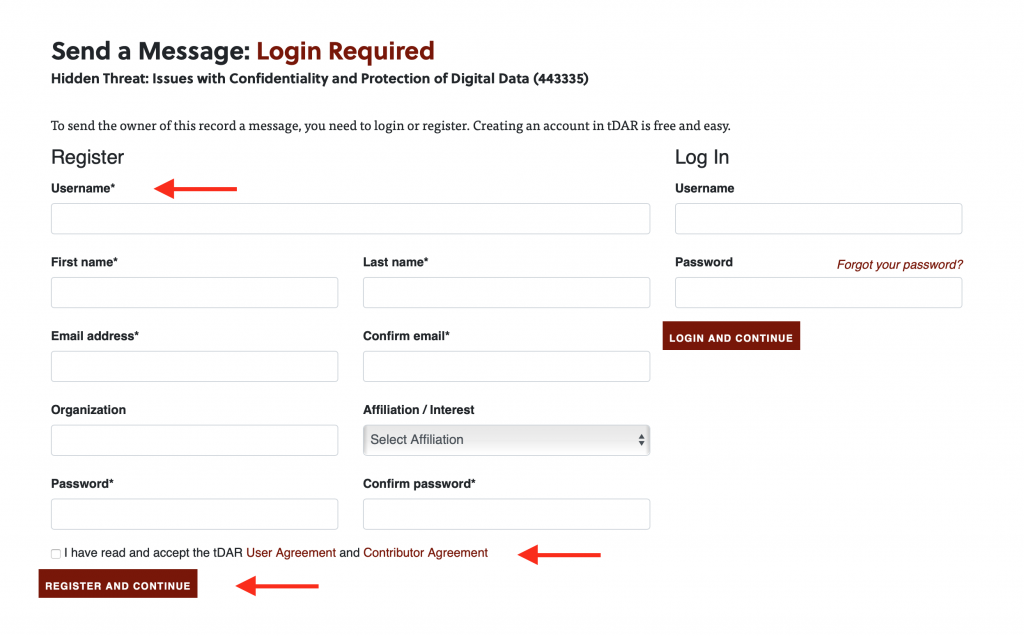 After you log in or finish filling out the registration form, click the continue button, and you will see the "Send a Message" page where you can request access to your paper's abstract in tDAR: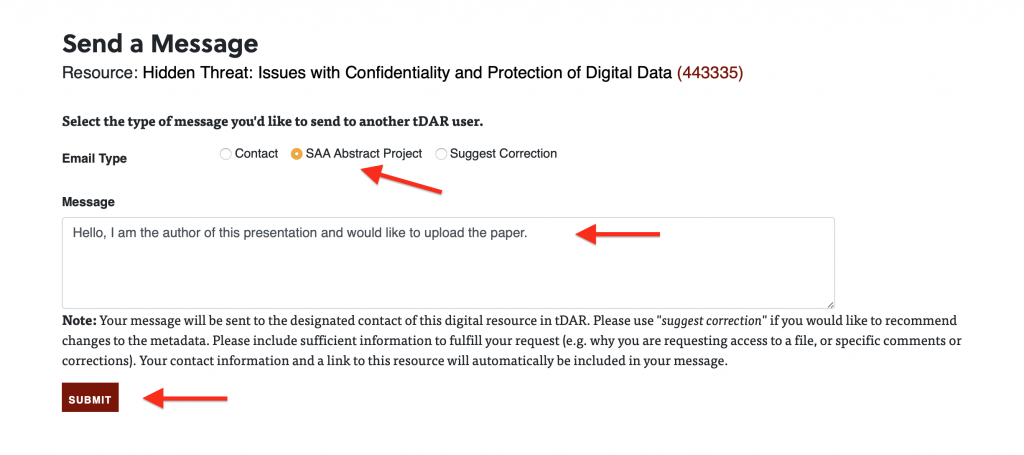 You should see the title of your abstract at the top of the page (under Send a Message).
Be sure the "SAA Abstract Project" button is marked, then type in a message explaining that you are the author and want to upload your paper. "Hello, I am the author of this presentation and would like to upload the paper to tDAR."
Finally, click SUBMIT.
Within 1 business day, you will receive an email from tDAR with a link that will allow you to create metadata (some will already be there from the abstract) and upload your presentation to tDAR.
Click on the link (it will ask you to log in) to edit the abstract and upload your file(s).
Scroll down and edit or enhance any of the metadata you would like. Click on the green "add files" button under "Attach Document Files" and follow the prompt to upload a PDF copy of your paper or poster.
You may save your work at any point along the way, but when your edits are complete click save and you are done!
If you would like to upload a dataset in addition to your paper or presentation, please contact the SAA to ask for a tDAR voucher IF you fall under one of the categories listed below: membership@saa.org .
If you are adding multiple files (e.g. your paper or poster and a data set) you will probably want to create a Collection – that way, someone who views the paper will also find your data set or other related work.
Look at our help documentation to learn about creating a collection to organize your works.
If you have problems or questions, contact us at comments@tdar.org
Other SAA Member Benefits
The Society for American Archaeology supports a generous tDAR benefit for retired members, student members, members from countries with discounted membership rates, and members from Tribal Historic Preservation Offices. These member categories are eligible for a voucher that allows them to upload ten files (totaling 100MB) to tDAR. This is a wonderful opportunity to preserve and make accessible your archaeological information.
To take advantage of your SAA Member Benefit please follow these steps:
Email membership@saa.org and request your tDAR voucher
Log-in to tDAR, or visit tDAR.org to sign up.
Head over to tDAR's pricing page (core.tdar.org/cart/add).
Enter your voucher number in the "Redeem Code" field.
Click "Next: Review & Choose Payment Method." Your credit will be added to your account and you can begin uploading files!