We had a busy year at the Center for Digital Antiquity in 2016, tDAR continued to grow with significant contributions from the North Atlantic Biocultural Organization , US Air Force, and US Army Corps of Engineers. tDAR had one major software releases, Obsidian which focused on enhancing the collections pages, searching, data integration, and added new APIs for working with data and metadata in tDAR.
We are continuing our work with the Corps of Engineers Veterans Curation Program, putting digital products based on their rehabilitation of physical archaeological collections into tDAR where it can be shared broadly.  We worked with the US Air Force cultural heritage program as program leaders there continued to build digital archaeological archives for their bases and other facilities. We are also still working with the Phoenix Area Office of the Bureau of Reclamation on their rich archives of archaeological material.
Individual researchers and research organizations began or continued to build their archives in tDAR.  A few notable contributions include those from: the Eastern Mimbres Archaeological Project (EMAP) , the ICOM Affiliated Organisation representing archaeological open-air museums, experimental archaeology, ancient technology, and interpretation (EXARC), the PaleoResearch Institute, the Center for Archaeology and Society, SRI Press, and the Dainzú-Macuilxóchitl Archaeological Project. Also notable was an extensive set of tree-ring data uploaded by Tim Kohler and Kyle Bocinsky.
As part of our continuing agreements with Archaeological Institute of America (AIA) and Society for American Archaeology (SAA), we ran workshops highlighting best practices in digital curation at the AIA annual meetings in Orlando and San Francisco respectively. We also continue to provide SAA student members with a number of no cost uploads for contributing their data to tDAR as part of our agreement with SAA.
We continued our existing partnerships with the DataARC and SKOPE NSF awarded projects. We also developed new international partnerships for the use of tDAR by colleagues and organizations in Australia with the Federated Archaeological Information Management System (FAIMS) and in Canada with Sustainable Archaeology at the University of Western Ontario and the Museum of Ontario Archaeology.
Content added to tDAR in 2016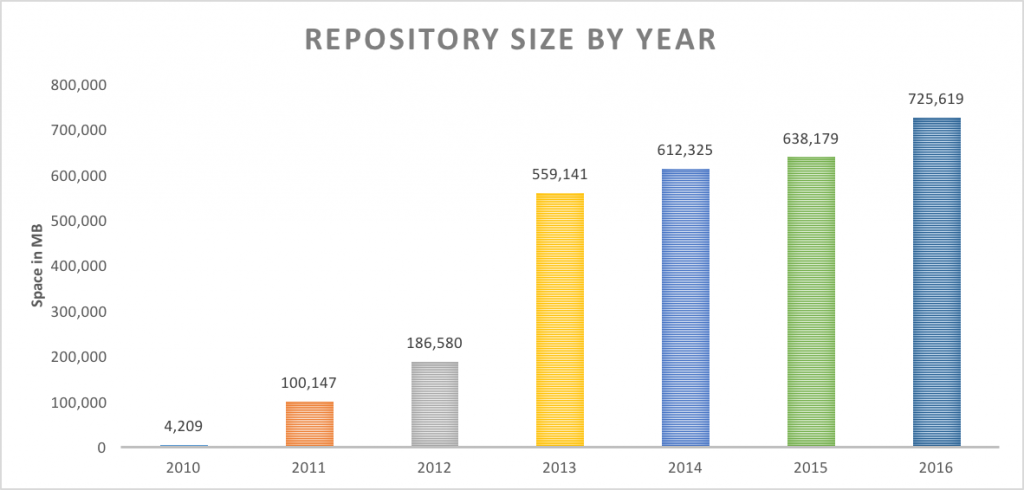 Usage Statistics
While we do not maintain detailed statistics on users or use to protect user and contributor privacy, we can share some interesting aggregate data. Below are the most frequently viewed and downloaded resources.
Resources (most viewed)
Resources (most Downloaded)