The Digital Antiquity staff is excited to highlight our newest intern, Hannah. Hannah is lending her expertise to our team this month before returning to her graduate studies at New Mexico State University next semester. Hannah is assisting with adding content to tDAR for the Digital Archive of Huhugam project, as well as creating content in tDAR for her graduate program  research. We are so happy to have Hannah on board and to provide the rest of the world with the opportunity to learn more about her!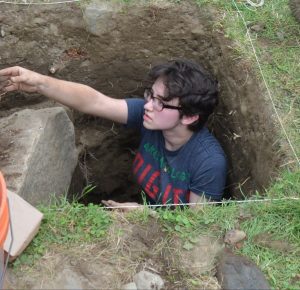 Staff Highlight
Name: Hannah Dutton
Position/Title: Digital Curation Intern
Degree: Masters student at New Mexico State University in Anthropology and Cultural Resource Management
Previous Work Experience/Research Focus: Historical Archaeology in Spanish Colonial New Mexico and Colonial New England, Prehistoric Archaeology in Nicaragua.
Publications/Career/Education Highlights: Lab Manager at the Enfield Shaker Museum Field School, survey work on the Camino Real de Tierra Adentro with New Mexico State University, 2017 SAA Poster on "Ceramic Compositional Analysis from Chiquilistagua, Nicaragua" with Drs. Justin Lowry and Jason Paling.
Notable Personal/Professional Achievement: I helped publish literature magazines and host poetry mics all through undergrad, while studying in the Social Science Department in undergrad.
Favorite Place to Travel To: My family's cabin in Maine; no internet, no cable, limited phone service!
Fun Fact(s): I sang at Carnegie Hall in New York City as a freshman in undergrad! I also had an American Revolution-era reenactment costume as a kid because I've always been a major history nerd!