We had a busy year in 2015, tDAR continued to grow with significant contributions from the North Atlantic Biocultural Organization , US Air Force, and US Army Corps of Engineers. tDAR had two major software releases, Munsell and Neolithic which completely redesigned the Data Integration interface to make it easier to use, expanded access to usage statistics, and updated the visualization and mapping interfaces for tDAR.
We are continuing our work, begun in earnest last fall with the Corps of Engineers and the US Air Force on digital archaeological archives for their bases and other facilities. We are also still working with the Phoenix Area Office of the Bureau of Reclamation and Midwest Archeological Center of the National Park Service on their rich archives of archaeological material.
As part of our continuing agreements with Archaeological Institute of America (AIA) and Society for American Archaeology (SAA), we ran workshops highlighting best practices in digital curation at the annual meetings for SAA and AIA in San Francisco and New Orleans respectively. We also continue to provide student members with a number of no cost uploads for contributing their data to tDAR as part of our agreement with SAA.
Content added to tDAR in 2015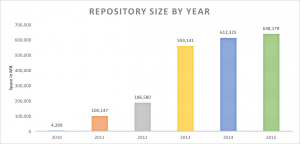 Usage Statistics
While we do not maintain detailed statistics on users or use to protect user and contributor privacy, we can share some interesting aggregate data. Below are the most frequently viewed and downloaded resources.
Resources (most viewed)
Culture Keywords (most used)
Investigation Type (most used)
Material Type (most used)
Geographic Keywords (most used)
Temporal Keywords (most used)
Other Keywords (most used)