Digital Antiquity is pleased to announce Quartz, tDAR's 18th major release.   This release focuses on enhancing collections, email, and other smaller enhancements.
New tools for creating and managing collections:
Resources owners now have new and easier ways to manage their collections. We we have made a number of changes to ease the management and creation of collections.
First, from the resource page, you can now click the "add to collection" button and quickly add a resource to a collection from there.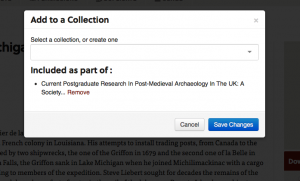 Second, the collection edit page now makes it a bit easier to both see everything in a collection and add/remove items from it.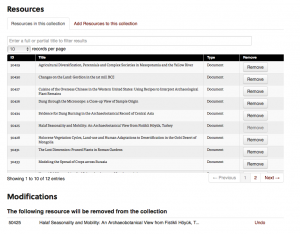 Other features:
New type of Document: We've added a long-requested type of document "Report." This new document type allows contributors to identify archaeological reports in tDAR and to distinguish them from "books" or "other materials." If you have contributed materials to tDAR in the past, this feature is now available to you.  If you have a large number of reports that should be converted, please contact us.
Pretty emails from tDAR: All of the emails from tDAR are now easier to read, and cleaner.
A ton of smaller bug fixes and performance enhancements.