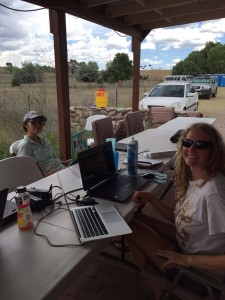 This week I visited the Preservation Archaeology Field School in southwestern New Mexico organized by Archaeology Southwest. While there, I led a student training session on managing and preserving digital data. The students got to use tDAR to preserve datasets and maps from work done at the 3-UP Site in 2008 and 2009. These will complement the excavation report when it is completed later this year.
Good digital curation practices need to be part of every archaeologist's workflow and introducing your students to this now can help build good habits for life.  Archaeology Southwest's Preservation Archaeology Field School students learned about the importance of metadata, keeping good records and managing digital archaeological data first hand. I had the opportunity to be out in the field again (for a little bit),  work with a great group of students and welcoming staff and try my hand at working on an experimental adobe structure. Most importantly these digital resources will be preserved and accessible!  
Digital Antiquity is always looking for opportunities to work with students and early researchers–get in touch if you'd like one of our digital curators to come out to your field school or do a web-based workshop!
A special thanks to Karen Schollmeyer  for her support in organizing the training session.
[Photo Credits: Jodi Reeves Flores (above), Karen Schollmeyer (first, below) and Allen Denoyer (second, below)]