We have wonderful things planned for tDAR in 2013, from an updated look and feel to the tDAR application, to a number of exciting new software features.  But, as we start out 2013, it's interesting to take a look at how tDAR has changed and evolved in 2012.  2012 was a big year for tDAR and Digital Antiquity and we're grateful to you for being part of it.  2012 included Digital Antiquity receiving a second grant from the Andrew W. Mellon Foundation to support the Center's operation and development by expanding the content of tDAR, enlarging the community of users, and continuing to develop and enhance tDAR's software.  We received an important endorsement from the American Anthropological Association.  We were also awarded a CLIR fellowship to fund a postdoctoral candidate in association with ASU Libraries.
The tDAR software underwent two major updates this year: Grid and Harris.  Combined, these updates significantly enhanced the search and discovery functionality for tDAR, and have improved the interface for data integration and data entry. The repository also underwent considerable growth.  Our contributors have added over 5,000 new documents, data sets, images, and other resource types for a total number of records now exceeding 373,000.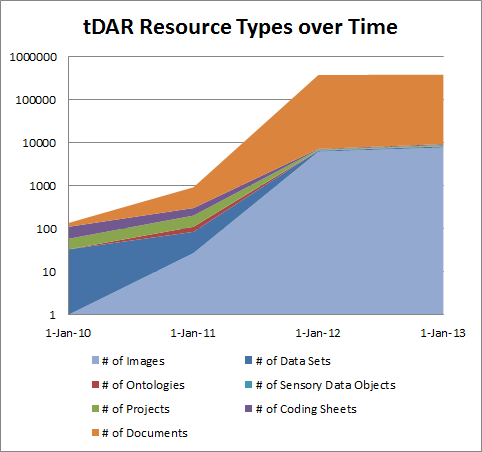 The repository is now over 180GB is in size, and has literally doubled in size over the course of the last year.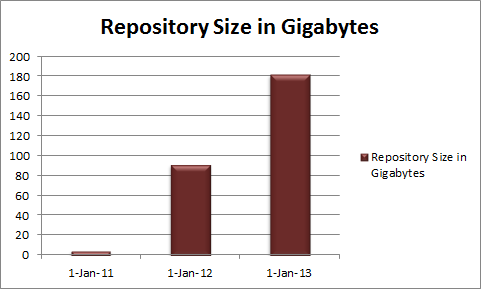 Usage Statistics
While we do not maintain detailed statistics on users or use to protect user and contributor privacy, we can share some interesting aggregate data.   Below are the most frequently viewed and downloaded resources.
Most Frequently Viewed Resources
Most Popular Downloads
Metadata Statistics
These are the most popular people, places, sites, and other keyword data used to describe tDAR records in the last year.
Culture Keywords
Investigation Types
Geographic Keywords
Material Types
Site Name Keywords
Site Type Keywords
General Keywords
People or Institutions Referenced within tDAR Records
Add your files to tDAR today, and look for them on our most popular list of 2013.   We wish you a prosperous and healthful new year!